While ensuring code-compliance, of course!
It's hard to believe that it has been 6 YEARS since I last updated this post on zombie-resistant door openings, and 9 YEARS sine I wrote the original version.  With the new model codes coming out soon it's time for another update, and what better day to post it than on Halloween??  Enjoy!
~~~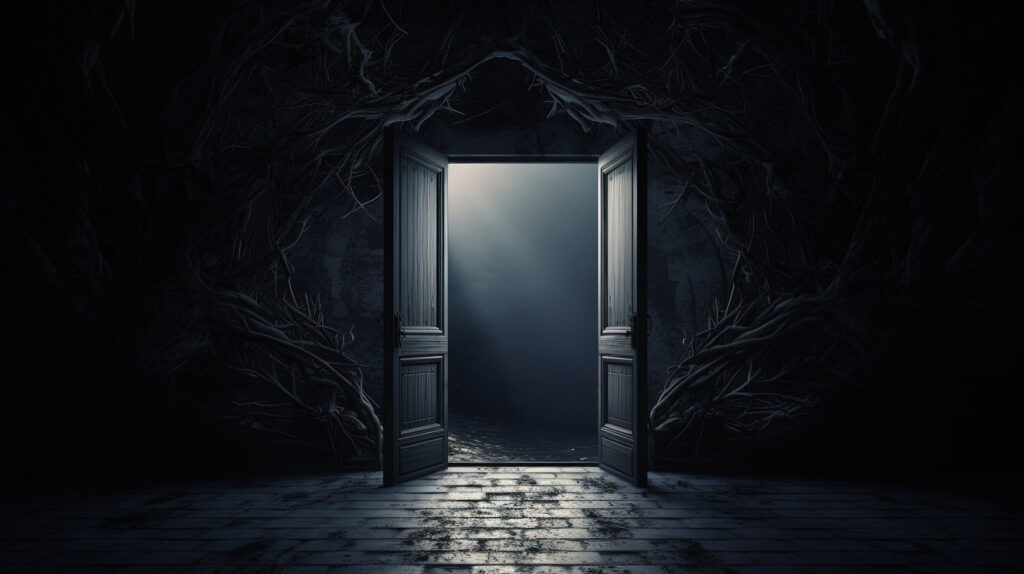 It's the time of year when the veil between the worlds of the living and those who have passed on is said to be at its thinnest, and it seems like a good time to review some security precautions for zombie-preparedness.  While protection from zombies is of utmost importance, it is also critical that egress and fire protection requirements are met.  If one or more zombies are able to defeat the security measures you have put in place, code-compliant egress routes will give you a fighting chance to outrun them.
Some so-called zombie defense experts are sadly uninformed, and recommend barricading windows and doors to prevent zombie access.  In reality, a hollow metal or solid core wood door will provide adequate protection from zombies if the correct hardware is specified and supplied.  Beware value engineering and substitution requests…these products may not meet the zombie-resistance standards listed in the specification.
If doors are equipped with glazing for viewing or light transmission, this can be a weak point in the zombie defense perimeter and must be addressed.  Remember, traditional wired glass is only half as strong as annealed glass, and current codes require glass installed in doors and other hazardous locations to be impact-resistant (there is no longer an exception for traditional wired glass in fire doors).  Glass and other glazing materials that have been successfully tested to the CPSC 16 CFR 1201 (Category I or II) or ANSI Z97.1 (Category A or B) standards will provide sufficient protection against zombie attack.
You may be tempted to equip doors with multiple locks in an attempt to thwart zombies.  While this tactic may help the building occupants to feel protected, these locks actually increase the probability of occupants becoming trapped, driving zombies to pursue their living prey with renewed vigor.  Most zombies are slow-moving creatures and the chances of survival are much greater if building occupants are able to seek another means of egress when the living dead arrive.  Therefore, hardware on most means of egress doors must unlatch with one operation, and with no keys, tools, or special knowledge or effort.  Code-compliant multi-point locks meeting these operational requirements are available.
For Assembly and Educational occupancies with an occupant load of 50 people or more, the I-Codes require panic hardware on egress doors to facilitate fast evacuation (with a few exceptions).  To prevent zombie access for pairs of doors with panic hardware, the most secure application is the use of two rim panic devices with a removable mullion.  Zombies do not typically have enough muscular strength to defeat this hardware – regardless of how Hollywood chooses to portray them in fictional accounts.  Using panic hardware with the "exit only" function (no operating hardware on the exterior) will also help to thwart zombie access, although in some locations doors may be required to provide emergency access from the exterior.
It is possible that the zombie horde may seek entry via a building's roof door.  For a roof that houses mechanical equipment, the door can typically be locked to prevent access from the roof unless the Authority Having Jurisdiction (AHJ) will not allow it.  However, if a building's roof is occupiable – for example, if it is used as a roof garden or assembly space, the free egress required from the roof to the stairwell could be a threat to the zombie defense system.  In the past, the most restrictive security measure allowed by code was an alarm to indicate that the roof door had been opened, or delayed egress if allowed by the use group.  Current codes do allow these exterior spaces to be locked if certain criteria are met.  For health care facilities, controlled egress locks can provide protection from zombies, but staff must be able to facilitate free egress and evacuation.
The purpose of a fire door assembly is to compartmentalize the building and slow the spread of smoke and flames, protecting the egress path to give the building occupants a safe route to the public way.  Acceptable alterations for fire doors are very limited, so any anti-zombie protective measures must meet these requirements.  Hardware on fire doors is listed and/or labeled as a component of the fire door assembly, and must remain in working order.  Any deficiencies found during an annual fire door assembly inspection must be repaired "without delay", as required by NFPA 80 – Standard for Fire Doors and Other Opening Protectives.  Refer to the fire door page of iDigHardware for additional information about fire doors – BEFORE IT'S TOO LATE.
During a zombie apocalypse, it's only a matter of time before the power grid goes down due to the zombification of the utility workers.  Since electromagnetic locks are inherently fail-safe and are therefore unlocked when the power fails, they will not offer protection once the power is out.  In addition, the motion sensors required to meet the requirements for sensor-release locks could result in someone inside the building stepping into the sensor's detection area and accidentally allowing the zombies to enter.  If the building is equipped with an emergency power system to power the electromagnetic locks and release devices, using a system that complies with the door-hardware release requirements of the code would alleviate the possibility of accidentally activating the motion sensor, but be sure to check the applicable codes to see if a UL 294 listing is required (future codes will allow either UL 294 or UL 1034 listings for special locking arrangements).  Luminous egress path markings are helpful in guiding egress during a power failure, and are required by code for some high-rise buildings.
Fail secure electrified hardware with access control devices may be a good choice for doors prone to zombie entrance attempts, as fail secure hardware will continue to provide security against unauthorized access even when power fails.  In cases where zombies have the access codes or credentials because they were authorized to enter before their transformation, it is highly unlikely that they will have the motor skills or higher level reasoning required to utilize an access control credential.  Because of the degeneration process experienced by zombies, biometric devices such as hand geometry readers, fingerprint readers, and iris scanners will not respond to a zombie's request for access, due to systemic deterioration.
For more tips on preparing for a zombie apocalypse, visit the Centers for Disease Control and Prevention (CDC) page – Preparedness 101: Zombie Pandemic.  If you have additional suggestions to strengthen security systems and prevent zombie access please share them in the comments.  It's a matter of life or living death!
You need to login or register to bookmark/favorite this content.