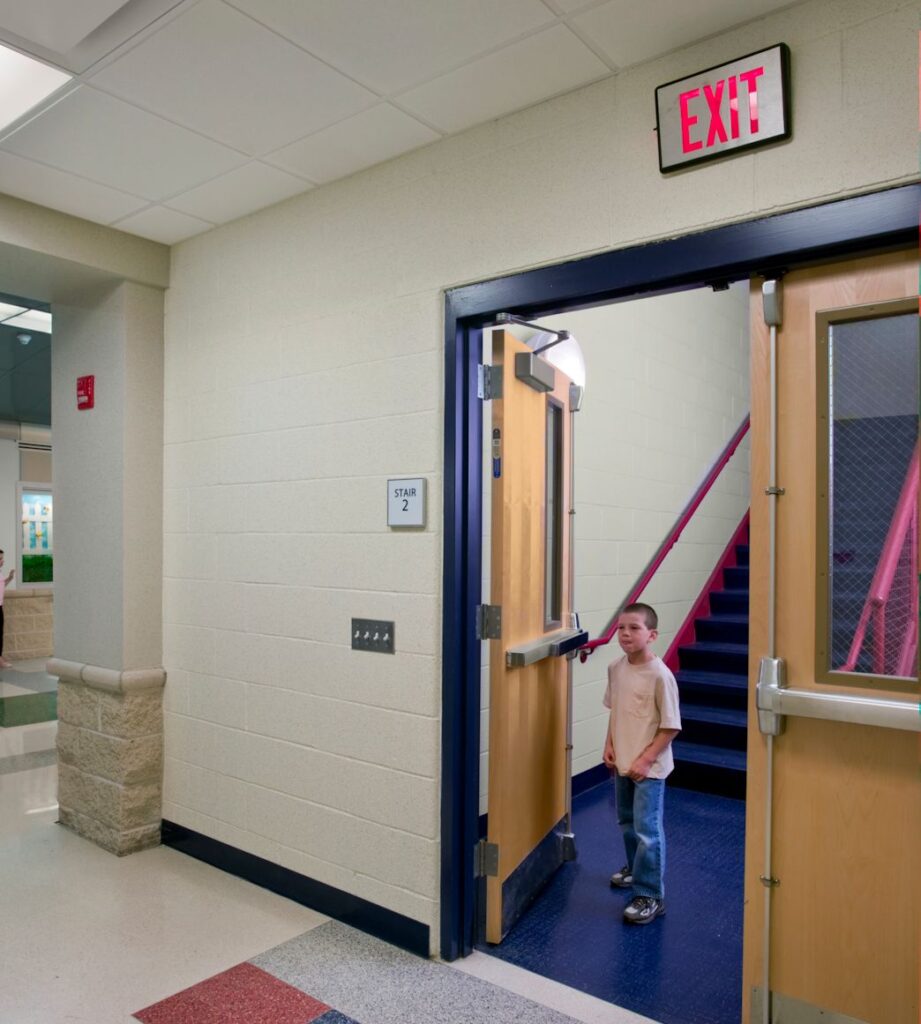 Several people have asked the same Quick Question this week:
Is it permissible by code for stairwell doors in schools to be locked during a lockdown?
The model codes do allow interior stairwell doors to be locked on the stair side, to prevent access between floors during a lockdown.  This is an important security consideration for schools and other types of buildings, as limiting movement through the facility can help to reduce exposure.
With interior stairwell doors there are a few things to consider:
Most stairwell doors are fire door assemblies, and are required to automatically close and latch.  Propping fire doors open with a wedge or other mechanical means is not code-compliant.  Automatic-closing devices may be used to hold fire doors open until smoke is detected.
In educational facilities, the doors leading to the stairwell from each floor must allow free egress – even during a lockdown.  The doors will typically be equipped with fire exit hardware (panic hardware listed for use on a fire door).
With regard to locking the lever handle on the stairwell side during a lockdown, the requirements of the model codes differ (refer to this post for a follow-up):

The International Building Code (IBC) and International Fire Code (IFC) allow locked lever handles on the stairwell side of the doors, but require electrified levers that can be remotely unlocked to allow building occupants to leave the stair if it becomes compromised during a fire.
NFPA 101 – Life Safety Code allows lever handles to be mechanically locked on the stairwell side if the stair is serving 4 stories or less.  If the stair serves more than 4 stories, electrified lever handles or selected reentry is allowed by NFPA 101.
State and local requirements may vary from the model codes, so refer to the adopted codes for prescriptive information.
For additional information about the requirements for stairwell doors, refer to the following posts and articles:
You need to login or register to bookmark/favorite this content.