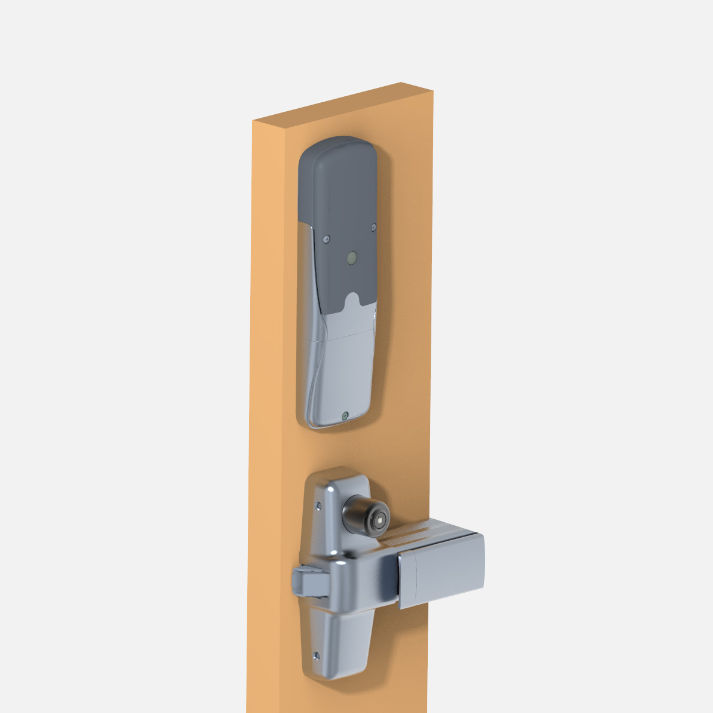 For my Fixed-it Friday posts, I typically share photos of creative modifications – often applications that are not code-compliant.  But I also like to share product changes that solve a problem.
The Schlage AD993 exit trim is an access control product that can be installed with panic hardware to allow electronic access via a variety of credential readers.  The trim is available in offline and networked configurations, hardwired or wireless.  Some functions include an internal push button (IPB) on the egress side of the trim housing.
In most U.S. states, operable parts for door hardware are required to be mounted between 34 inches and 48 inches above the floor or ground, but in California, the allowable mounting height range is 34 inches to 44 inches AFF.  Because of the standard mounting height for panic hardware, and the height of the AD993 exit trim, the standard IPB location is above the 44-inch point (but below 48 inches).
To address the more restrictive range in California, a retrofit kit has been released; the kit moves the IPB from the exit trim to the panic hardware center case.  To read more about this kit, refer to the data sheet or the installation instructions.
For additional information, call Customer Care at 1-877-671-7011 Option 2 or email Electronic_Lock_TechProdSupport@allegion.com.
You need to login or register to bookmark/favorite this content.