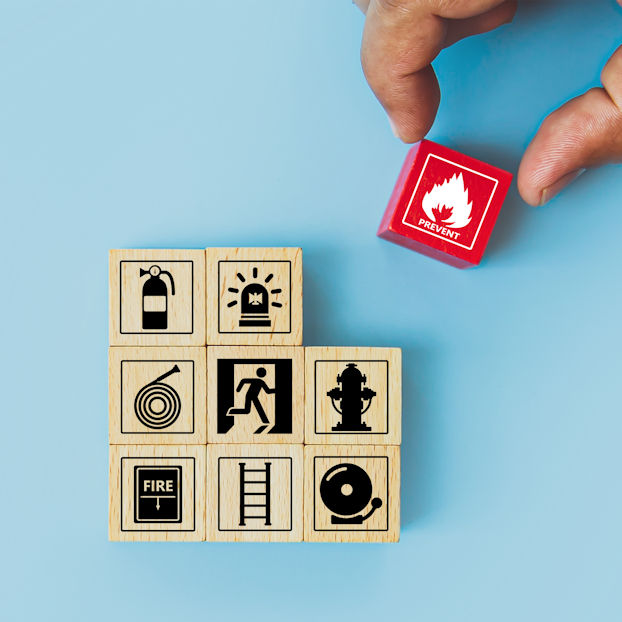 This week marks the 100th anniversary of Fire Prevention Week, which commemorates the Great Chicago Fire.  This devastating fire, which began on October 8, 1871, killed more than 250 people, left 100,000 homeless, destroyed more than 17,400 structures, and burned more than 2,000 acres of land.  The National Fire Protection Association (NFPA) has many great resources available for Fire Prevention Week, as well as a post on the NFPA blog, and a video about the Great Chicago Fire.
As we have seen demonstrated in fires throughout history, fire door assemblies play a very important role in a building's passive fire protection system.  The correct specification, installation, and maintenance of these opening protectives can mean the difference between life and death for building occupants. However, many existing fire doors have deficiencies that could affect their performance during a fire – missing or damaged components, auxiliary hardware used to prop doors open, or creative methods to prevent the hardware from latching.
Code-compliant fire door assemblies deter the spread of smoke, flames, and toxic gases during a fire, compartmentalizing the building and protecting the means of egress to allow building occupants to escape.  This week I will be sharing some of the resources available on iDigHardware related to fire door assemblies, to increase awareness of the requirements of the codes and standards that help to ensure fire doors perform as designed and tested.
The posts for this week will focus on the four main steps when specifying or selecting door hardware:  (1) hang the door, (2) secure the door, (3) control the door and (4) protect the door.  But before we get into the details, today's resources provide an overview of fire doors and fire door inspection:
Check back tomorrow for more about fire doors, and follow along on Allegion US for social updates and resources:
You need to login or register to bookmark/favorite this content.