This afternoon I had an appointment for acupuncture, and as I was drifting off into a needle-induced temporary coma (if you haven't tried it, you should!) I was thinking about what I should post for Friday.  Then I thought about how it seemed like such a short time between my Wordless Wednesday post and planning for Friday's post, and in a sudden epiphany I realized that I had posted the WW post today!  I DO know what day it is, and I did write the WW post on Wednesday, but I must have had a senior moment.  I went back and changed the date so nobody who visits that post in the future will realize that I messed up.  To all of the loyal readers out there, THANK YOU for not saying, "You dummy, it's Thirsty Thursday not Wordless Wednesday!"  🙂
My coworker and pal, Scott Barringer, suggested that I write a post explaining the different types of hinges and when to use them.  I knew I would need some photos, so I asked another coworker and pal, Nolan Thrope, and he came through big-time.  This post will not discuss every type of hinge there is, but will hopefully clear up some of the mystery around the types that cause the most confusion.  If you think I should include another hinge, just leave a comment and I'll add it.
The hinge types that I will address are:
wide throw
swing clear
raised barrel
anchor hinges
Wide throw hinges are used when you need extra clearance behind a door – typically a door that opens 180 degrees.  In the good old days this clearance was usually needed because of fancy wood trim around the frame.  Today, they are more commonly used when a door needs to open 180 degrees and sit parallel with the wall, held open on magnetic holders.  You need enough space behind the door for the hardware – possibly a lever handle and a closer, and the projection of the magnetic holder has to match the clearance behind the door at the hinge edge.  If the two dimensions are not the same, the door won't sit parallel to the wall.  There are other applications for a wide throw hinge, but hopefully you get the picture.
So how wide does a wide throw hinge need to be, anyway?  I found this gorgeous illustration along with the formula in the Hardware Age Builders' Hardware Handbook by Adon H. Brownell, AHC.  This book is long out of print, but I found it on eBay and I just love it!  With this formula you can calculate the proper hinge width depending on how much clearance you need.
Here are a couple photos of wide throw hinges.  The first was used to allow a double egress pair to open (almost) 180 degrees.  The second was used on an unusual application where an old door was mounted on top of a new door, creating a very thick door (you can see more photos of that door here).  Note that the closer on the double egress door has an extra-long arm to accommodate the 8″ wide hinges.  The LCN engineering department can help you determine whether a special template is required for your application.  Keep in mind that wide throw hinges reduce the clear opening width when the door is open 90 degrees, which is where the accessibility standards measure the clear width.
Swing clear hinges are used to swing the door out of the clear opening of the frame when the door is open approximately 95 degrees (the door will project slightly past the frame stop if open to 90 degrees).  Swing clear hinges are most commonly used in hospitals, where removing the door from the opening increases the clear width and also helps prevent damage to the door edge from carts and equipment.  I have occasionally used swing clear hinges on a door that didn't provide the required 32″ clear width.  One thing to note is that the hinges are very visible on the pull side of the frame when the door is closed, which could be a problem depending on the aesthetic requirements.
[There's a short video here that shows a hospital door with swing-clear hinges.]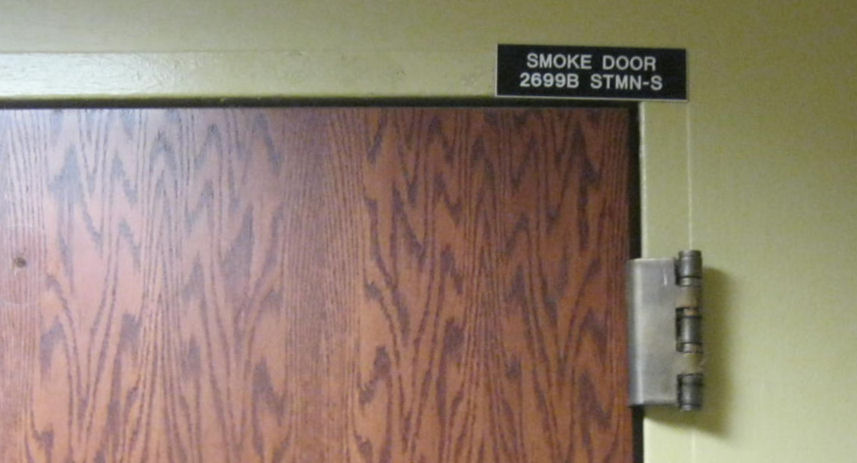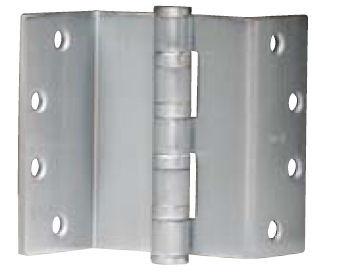 On a raised barrel hinge, the barrel is offset to one side instead of centered between the hinge leaves.  This type of hinge is fairly rare, but it is used when the barrel of a standard hinge would interfere with a special frame condition or trim.  Here is a graphic of a Bommer raised barrel hinge, and two examples – one is a raised barrel hinge used because of a deep reveal on the frame, and one that should have been a raised barrel hinge to avoid the conflict with the trim:
An anchor hinge is used as the top hinge for high-use or heavy doors.  In addition to the standard hinge leaves, there are flanges that attach to the top of the door and the underside of the frame head.  These hinges require a special door and frame prep, and the hinges are handed – either left hand or right hand.  Here is a graphic of a Bommer anchor hinge, as well as a photo of an anchor hinge installed:
If you have anything to add, please leave a comment.  Thanks to Nolan for all the photos, as well as Ives and Bommer for the hinge graphics.
By special request, I will do a separate post on continuous hinges sometime soon!
You need to login or register to bookmark/favorite this content.